This classic baked macaroni and cheese recipe is creamy and comforting with a buttery bread crumb topping.
Cheese sauce is easy to make from scratch on your stovetop, starting with a roux and adding milk, cheddar, and Parmesan, resulting in a rich, decadent sauce that coats every nook and cranny of the noodles.
Serve this comfort-food macaroni and cheese casserole with grilled meats, sloppy joes, fried chicken, or salad for a meatless dinner.
This homemade mac and cheese recipe uses a classic mix of sharp Cheddar and Parmesan.
Cheddar is a great base, while Parmesan adds a more complex and salty flavor. Of course, you can adapt this recipe to your taste: Gruyere, Monterey Jack, and Gouda are all great substitutes for macaroni and cheese.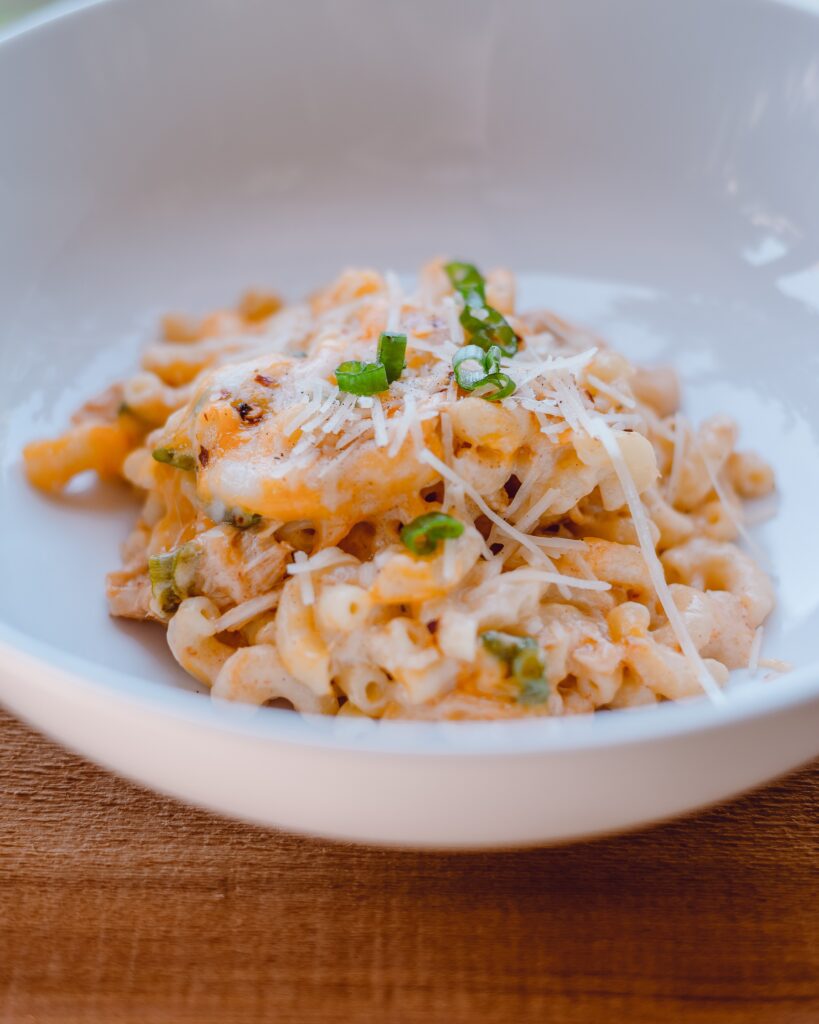 INGREDIENTS
1 (8 ounce) box elbow macaroni
1/4 cup butter
1/4 cup all-purpose flour
1/2 teaspoon salt
2 cups milk
2 cups shredded Cheddar cheese
ground black pepper to taste
INSTRUCTIONS
1.Preheat the oven to 350 degrees F (175 degrees C). Grease an 8-inch square baking dish.
2.Make the macaroni and cheese: Bring a large pot of lightly salted water to a boil. Add macaroni and simmer, stirring occasionally, until tender yet firm to the bite, about 8 minutes.
it will finish cooking in the oven. Drain and transfer to the prepared baking dish.
3.While the macaroni is cooking, melt 1/4 cup butter in a medium skillet over low heat. Whisk in flour and stir until the mixture becomes paste-like and light golden brown, 3 to 5 minutes.
4.Gradually whisk 2 1/2 cups milk into the flour mixture, and bring to a simmer. Stir in shredded Cheddar and finely grated Parmesan cheeses; season with salt and pepper.

Cook and stir over low heat until cheese is melted and sauce has thickened, 3 to 5 minutes, adding up to 1/2 cup more milk if needed. Pour cheese sauce over macaroni and stir until well combined.
5.Make the bread crumb topping: Melt 2 tablespoons butter in a skillet over medium heat. Add bread crumbs; cook and stir until well coated and browned. Spread bread crumbs over macaroni and cheese, then sprinkle with paprika.
6.Bake in the preheated oven until topping is golden brown and macaroni and cheese is bubbling, about 30 minutes.
Which cheese melts best?
Fontina can be buttery and a little fruity; The Fontina Val d'Aosta of Italy's Aosta Valley is stronger, more pungent and nutritious (and always made from raw milk).
Gowda.
Asiago.
Talegio.
Reblochon-style.
Provolone.
Mozzarella.
Gruyre.
What's a Good Condiment for Mac and Cheese?
Basic spices that you may already have in your pantry that will work well include red pepper flakes, cayenne pepper, Italian seasonings, chili, onion, and garlic powder.

If you're inclined to head to the store, spices like cumin, curry powder, dry mustard, and paprika are all wonderful additions.
How do you keep mac and cheese creamy?
Cooking your noodles in milk instead of water makes your mac and cheese creamier. According to The Kitchn, cooking your noodles in milk instead of water makes the sauce creamy before you add the cheese sauce.
What Spices Can I Add to Mac and Cheese?
The best spices to spice up your mac and cheese are garlic powder, onion powder, salt, black pepper, cayenne pepper, Italian seasoning, crushed red pepper flakes, buffalo hot sauce and truffle salt.
Do You Cover Macaroni and Cheese Baking?
Most chefs prefer to cook their mac and cheese uncooked, especially if they put a lot of breadcrumbs on top.
Uncovered baking increases the chances of crusty tops and corners, adding a lot of contrast to this creamy dish. However, it's not "wrong" to bake your mac and cheese with a cover.
What are the best crunchy toppings for Baked Macaroni and Cheese?
Baked macaroni and cheese tossed with a little olive oil. Panko crumbs are regular large and sharp, so they make for a crunchy topping. The olive oil helps the topping brown.
Where's the best homemade macaroni and cheese you've had?
At home. I have really excellent macaroni and cheese in others' houses but I make it just the way I like it.
It wouldn't surprise me one bit if they liked their selves better than I should be, and that's a definite benefit to learning to be a good cook.
How do I make mac and cheese without milk?
My favorite is to replace milk with curd. This makes mac n cheese creamy and gives it a slight tang.
What Kind of Cheese Is Best for Making Mac and Cheese?
I like to use a mix of Cheddar and American Cheese. Cheddar cheese adds depth of flavor and gives American sauce a velvety texture.
Why do people like American cheese?
Mainly because of the way it melts. A piece of "American cheese" will melt completely over a hot burger, becoming soft and sticky from the heat of the burger itself, yet usually not so sticky as to drizzle. Try that with a piece of real cheddar… no such luck.