Ireland is a great place to visit for Irish foods. It is famous for its beautiful views. But did anyone tell you that the food there is also amazing?
Your days in Ireland will be even more remarkable if you try Irish cuisine. Each dish has its own unique history and represents a part of Irish culture. You shouldn't miss them.
2 Irish Appetizers That Look Good and Taste Great
Finding some appetizers should be the first step in planning a complete Irish meal. Let me show you what the best options are.
| | |
| --- | --- |
| 1. | Boxty |
| 2. | Colcannon |
| 3. | Shepherd's Pie |
| 4. | Bangers and Mash |
| 5. | Irish Stew |
| 6. | Irish Smoked Salmon |
| 7. | Champs |
| 8. | Black/White Pudding |
| 9. | Fish Pie |
| 10. | Seafood Chowder |
| 11. | Potato Soup |
| 12. | Dublin Coddle |
| 13. | Beef and Guinness Stew |
| 14. | Irish Breakfast |
| 15. | Bread Pudding |
| 16. | Apple Cake |
| 17. | Brown Bread |
| 18. | Soda Bread |
| 19. | Shortbread |
| 20. | Barmbrack |
| 21. | Irish Coffee |
1. Boxty (Irish Potato Pancake)
Irish people often say, "Boxty in the pan, boxty in the pan, if you can't make a boxty, you'll never get a man". This means that Boxty is a traditional and basic dish in Ireland. Come see what makes it so special!
Boxte is the name for pancakes made from potatoes, buttermilk, flour, and baking soda. Everything is mixed together and then pan-fried. It originated in the 1700s when poor people depended on potatoes for food.
It has long been a staple of St. Brigid's Day, which celebrates the beginning of spring. I highly recommend Boxty as the first food you try in Ireland.
2. Colcannon (Irish Mashed Potatoes)
Colcannon is another potato dish that has gained popularity recently. It was officially in the journal of William Bulkeley, a 16th-century traveler. Now it is an essential Irish dish on Halloween and St. Patrick's Day.
There is another tradition associated with Colcannon. During the holidays, some girls will find a small vault in their colcannon bowl, which means she is the next girl to be married.
Then the girl would put the last spoonful of colcannon in her stockings and hang them on the door. Locals believe that any man who sees these socks will be the husband of that lucky girl.
Colcannon has only 5 common ingredients in Ireland: mashed potatoes, milk, butter, and kale or cabbage. This dish is rich, healthy, and refreshing. People go so crazy about it that they even wrote a song about it.
3. Shepherd's Pie
When it comes to Shepherd's Pie, people often refer to it as British food. But it is also an iconic and traditional dish from neighboring Ireland. Its history is complicated. It originated in Britain between the 13th and 15th centuries.
I am sure you must have tried Shepherd's Pie as it is very popular in America. So what's the point of trying it out in Ireland? Well, that's because it's one of the go-to recipes to celebrate St. Patrick's Day. It's better to enjoy a dish, isn't it?
4. Bangers and Mash
Bangers and mash have long been popular dishes in Irish and British pubs. It includes sausage, mashed potatoes, and a savory sauce. Are you curious about weird names? Let us tell you its story.
The sausage was a very common food. But when World War II broke out, meat was so scarce that people produced sausages by adding more water to the meat. But it would explode while frying, so they called it "bangers".
There is no less interesting story about "Mash". It gets its name because the potatoes are mashed before serving.
5. Irish Stew
Ireland has its own stew, taking the name of the country. It was invented in the 1800s for the lower class people.
Potatoes and onions were the cheapest and most common vegetables at the time, and mutton was the most widespread meat. People had to use less cooking methods to cook meat because it was so tough.
Nowadays, this stew is a popular dinner dish in Ireland for everyday meals and for special occasions such as St. Patrick's Day. Beef and lamb are now common choices. And some people also add carrots to the stew.
Learn more about the interesting history of Irish stew and how to make it.
6. Irish Smoked Salmon
The sea covers the whole of Ireland, so there's no doubt that fish must be one of the specialties here. Ireland is particularly famous for its smoked salmon, which is exported in large quantities around the world.
The dish is made from Atlantis salmon, which is native to the Irish seas. Traditionally, people serve smoked salmon with coleslaw, butter, lemon, and bread. It has a remarkable salty taste which can make everyone addicted.
7. Champ (Irish mashed potatoes with butter, milk, and scallions)
Champ deserves to be the national dish of Ireland. People love it a lot because it is amazingly mouth-watering and can be made with some simple ingredients like mashed potatoes, butter, milk, and spring onions.
Earlier only potatoes were to be eaten. This dish helped many Irish people survive the famine because it is nutritious and inexpensive. It is therefore very meaningful to Irish food and culture.
Champ Irish is a wonderful recipe for lunch. Its mild taste and creamy texture will leave you feeling relaxed and refreshed.
At this point, you may realize that Champ and Colcannon have something in common. Both of these are made from potatoes. However, in Colcannon, people use cabbage or kale instead of scallions.
Furthermore, the chump is widespread in Ulster, while colcannon is more common in other provinces. When the first potatoes of the season are collected, people cook Champa.
8. Black/White Pudding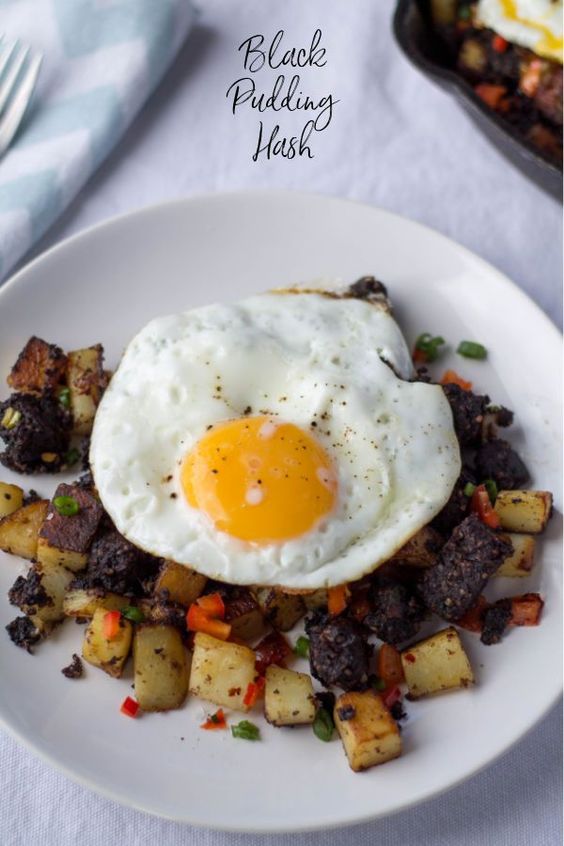 Ireland, puddings aren't puddings at all. Locals use that term to refer to blood sausage. There is no exact data about the history of these sausages, but people believe that they were made long ago, probably before the 15th century.
There are black and white puddings. But only black pudding contains blood, while white pudding contains pork and spices. They are one of the most common dishes in Irish breakfast. People serve them with beans, bacon, mushrooms, eggs, and potatoes.
With regard to flavors, black pudding has a distinctive salty and metallic taste due to the amount of blood. White pudding, however, tastes oniony and slightly spicy.
Why not explore more interesting facts about White Pudding?
9. Fish Pie
Fish pie or fisherman's pie originally came from Scotland. And now it has become a traditional dish throughout Britain, including Ireland. It has some shared characteristics with Shepherd's Pie. Both are creamy, warm, and comforting dishes with similar toppings.
You can find fish pie in most Irish pubs, especially in Dublin. There is nothing better than enjoying such a hearty dish with a glass of wine.
10. Seafood Chowder
A night in Ireland would be too cold without a bowl of seafood chowder. If you're planning to come to Kinsale, you'll have the opportunity to try the best seafood chowder at a cooking competition called the "All Ireland Chowder Cook-Off".
Seafood chowder is a hearty and comforting dish that you can find in pubs and restaurants, especially in coastal areas. Ireland is famous for chowder so I am sure you will have an amazing culinary experience.
11. Potato Soup
It seems that every country has its own recipe for making potato soup. It is cheap, nutritious, and easy to make. However, this soup has other meanings in Ireland.
It originated in the 1800s when most Irish people did not have meat to eat and had to rely on their only source of food, which was potatoes.
By mashing potatoes and slow-cooking them with onions, salt, and pepper, she created a simple yet delicious dish that helped her get through those tough times. Nowadays, it is still a very common dish in rural households.
12. Dublin Coddle (Irish Sausage and Potato Stew)
Coddle is a specialty of Dublin. It originated in the late 1700s when there was a famine in Ireland. At that point, they tried to cook any leftover meat and root vegetables to make a soup that would fill their stomachs.
The classic version of coddle includes sausage, potatoes, onions, and bacon. But now carrots are also added.
Cuddle is served year-round, thanks to the availability of ingredients in all seasons. Locals especially love to enjoy it in winter as it can warm them up.
13. Beef and Guinness Stew
In addition to the usual beef stew recipe, Ireland has a unique recipe that includes Guinness Black Stout beer. This stout originated in 1759 and has been used in cooking for a long time. This gives the meat an incredibly flavorful and melt-in-the-mouth, tender texture.
The ingredients for beef and Guinness stew are the same as for a typical Irish stew. The basics are potatoes, beef, carrots, and onions. This is a very famous pub food in Dublin. People like to enjoy it with a cup of Guinness.
14. Irish Breakfast
The way Irish people eat breakfast will surprise you. The dish was made to provide enough energy for the workers. These include bacon, eggs, black beans, black or white pudding, soda bread, grilled tomatoes, sausage, and mushrooms.
Each of the ingredients is kept separately and fried in a pan with some butter. These are all very common food that can be made at home and are always available in rural areas too.
Since Irish breakfast is a big meal, people can hardly finish it on a normal working day, so they serve it more often on Sunday morning or Christmas morning when they don't have to work.
15. Bread Pudding
What can you do with cubed bread? The Irish people used it to make a delicious dessert: bread pudding. Some say it comes from Europe, but the exact place and time are still a mystery. Others contend that it was built between the 11th and 12th centuries.
People make bread pudding in the same way they make a sweet casserole. They coat cubed bread in a sauce made from milk, eggs, sugar, and vanilla and bake it until it has a creamy texture. Sounds exciting, doesn't it?
Such a delicate dessert is difficult to find in America. You must try it.
16. Apple Cake
If you ask Irish people what the national dessert of Ireland is, of course, their answer would be apple cake. It is said that Irish people spend €100 million on apples every year. I believe most of that amount goes into making apple cake.
Irish apple cake is different from American apple cake. It is often accompanied by a delicious creamy custard sauce. I promise it will make your day.
17. Brown Bread
Another iconic dessert from Ireland is brown bread. People use baking soda to make it more fluffy and airy. This bread is so popular that most people think it originated in Ireland.
In fact, North American indigenous peoples invented the technology for using baking soda. In the 1840s the Irish adopted it and made brown bread.
Nowadays it is used as a sandwich. You can have sweet or savory fillings like jam and cheese.
18. Soda Bread
Like brown bread, soda bread was made using techniques borrowed from Native North American peoples. Baking soda replaces the yeast, resulting in crusty bread perfect for St. Patrick's Day.
Americans first used pearl ash to substitute for yeast before baking soda as the latter was not available until the 1830s. Since that time, people have used it to make the famous soda bread.
Now, you can find soda bread both in bakeries and in local homes. Many Irish people make soda bread for their families using their own unique traditional recipe.
19. Shortbread
Legend has it that when Mary Queen of Scots ruled the country in the 15th century, leftover flour used to make bread was left in the oven until it was dry and crisp. People loved to eat it and called it "biscuit bread".
Over time, people used butter instead of yeast and added more sugar. Then the name was changed to "shortbread". The Queen and Prince also enjoy it at tea time with guests. This is probably the easiest dessert to make. But its taste is amazing.
20. Barmbrack/Barrin Brec (Irish Fruit Bread)
Barmbrack is a staple of Halloween and New Year's Eve in Ireland. It consists of a dough made from flour, brown sugar, and pumpkin pie spice. Loaded with lots of sultanas and raisins, it makes for a scrumptious bread that is perfect for tea time.
Tradition has it that on New Year's Eve, the lady of the house makes a giant Barmbrack. At night, the men would find 3 pieces and throw them in front of the door. Also, he calls upon the Holy Spirit. They do this to avoid starvation.
The tradition of cutting Barmbrack on Halloween is fascinating.
21. Irish Coffee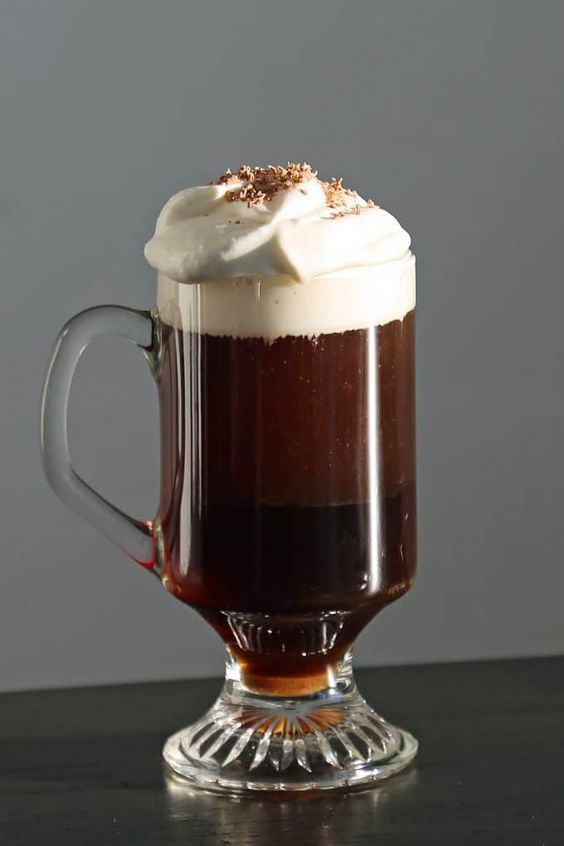 The Irish people seem to have a huge fondness for combining whiskey and other drinks. There was a chef named Joe Sheridan. He worked for Foynes Port near Limerick. In 1943, a flight had to be turned back due to a storm.
He saw the travelers cold and tired and decided to make them a drink by mixing whiskey and coffee and then topping it with some cream. Surprisingly, he liked it so much that it became an airport feature.